Membership Offers 2020/2021

Temporary Contact Details
The club can be contacted by email;

mountrathgc@gmail.com
or from 9am to 2pm Monday, Wednesday and Friday on

089 2166597
Officers 2020
                       
     Captain Dan Scully                         President Mary McCarthy                 Lady Captain Breda Beere
Welcome to Mountrath Golf Club
Our President Mary McCarthy and Captains Dan Scully and Breda Beere would like to wish everyone- members and their families, club staff, visitors and friends good health and enjoyable golfing in 2020.
We hope all enjoy playing our excellent course and enjoy a warm and friendly atmosphere in the clubhouse.
Email: mountrathgc@eircom.net
Phone: 057 8732558
RIP Declan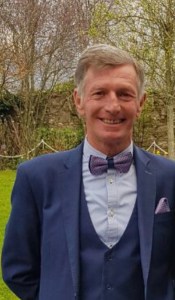 The members of Mountrath Golf Club are shocked and saddened by the tragic death of Declan Doocey, a very pleasant and popular club member who was held in high regard. Declan first joined the club around 2000 and was a member for several years. He worked as a post man and following his retirement he re-joined the club and took up golf again. Mountrath Golf Club became a home from home for Declan where he played almost daily with his friends followed by a chat and cup of coffee in the clubhouse. Recently he acquired his own buggy which made the game less onerous. He played in every competition and especially loved golfing with the seniors every Wednesday.
Declan supported all club activities and his offer along with other club members to volunteer in helping to maintain the course was indicative of his commitment to Mountrath Golf Club. We are a small close-knit rural club where everyone knows everyone, and Declan's loss has deeply affected all our members and he will be sadly missed within our club. Our thoughts are with Declan's family at this sad time. May his gentle soul rest in peace.